10 g of dust spiked with 1×107 of A. niger mold spores was introduced into the environmental testing chamber. A ceiling fan operating at full speed dispersed the dust and allowed it to homogenise throughout the chamber over a 10-minute period. Five minutes before the air cleaner was turned on (t = –5) triplicate 5-minute air samples were collected onto Potato Dextrose Agar (PDA) plates using SKC Bio-Impactors.
The procedure was as follows (Table 6.1). At t = 0 the Air Sniper Pro air cleaner was turned on, and operated at the highest fan speed. The air cleaner was operating for the remaining duration of the experiment. Triplicate airborne samples were taken at t = 10, t = 25, t = 40, and t = 55. A room disturbance was conducted in conjunction with the airborne sampling at t = 25. The room disturbance consisted of walking systematically around the inside of the chamber and bouncing a ball to disturb as much of the settled dust as possible.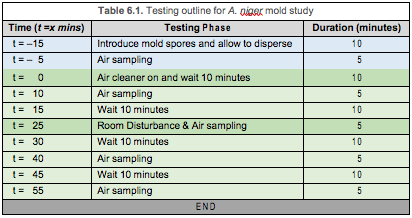 The PDA plates were collected at the end of the experiment and incubated at 25 °C for 72 hours. The plates were then examined for mold, and any mold colonies present were counted. A particle counter was set up inside the chamber to monitor airborne particle counts during each experiment. This device monitors airborne particles across six different size channels
0.3 – 0.5 µm, 0.5 – 1.0 µm, 1.0 – 3.0 µm, 3.0 – 5.0 µm, 5.0 – 10.0 µm and >10.0 µm.
The chamber was cleaned and sterilized using UV-C light before the next run. Each test run was conducted in triplicate. The control runs consisted of the same protocol as the test except the Air Sniper Pro air cleaner was absent.