The Industrial Solution,
Now with More Control Devices
in Fleet
Effective supplemental air sanitization requires a multi-unit approach. This dashboard functionality shows you how many devices exist throughout your fleet, so that you can better stay on top of your entire network of Air Sniper equipment.

Current
CFM
Keep track of the efficacy of your Air Sniper equipment. From your dashboard, you can see how much air has circulated through your Air Sniper fleet for a given timeframe. CFM is a necessary aspect of supplementary air sanitization.

Bulb
Replacement
The UVC technology is crucial to the air sanitization process. To ensure that your equipment continues to run as intended, this section of the dashboard includes a functionality to show you when the bulbs need to be ordered and replaced. Not available for 300W products.

Active
Alerts
Receive alerts for bulb replacement for equipment maintenance directly to your dashboard. Know exactly when your Air Sniper equipment needs to be looked at, and what needs to be fixed in your Air Sniper.
The Best Way to Manage Multiple Units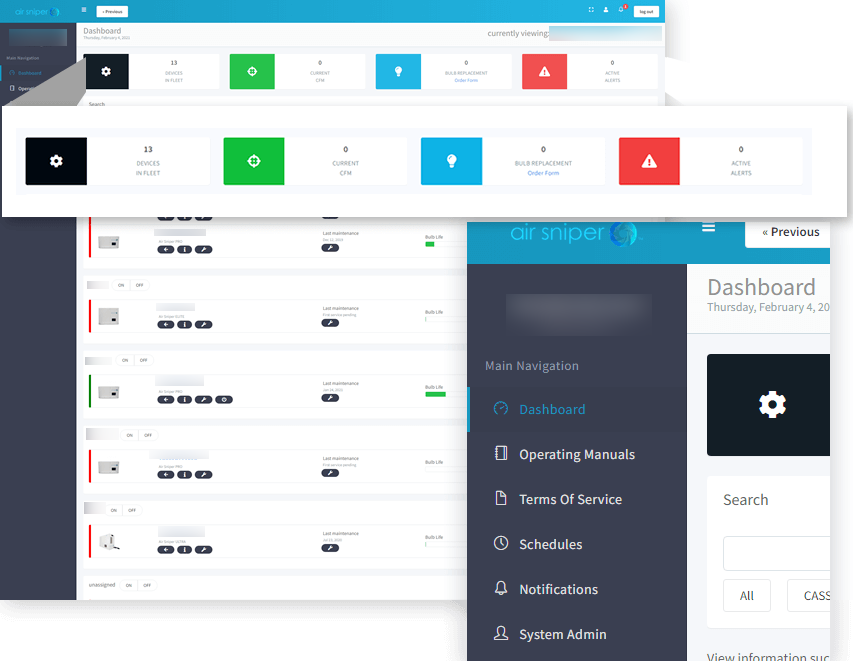 Watch your entire Air Sniper fleet from one convenient dashboard.
In order to help you maintain control of your fleet, you will have access to an exclusive digital dashboard that allows you to remotely monitor all of your equipment. From your dashboard, you will receive notifications for maintenance and bulb replacement, turn your equipment on or off, adjust fan speed and monitor CFM.
Air Sniper equipment also includes a touchscreen, for manual monitoring and maintenance. Both the dashboard and the touchscreen are WiFi enabled, keeping you connected to your equipment so you can watch the supplementary air sanitization in action!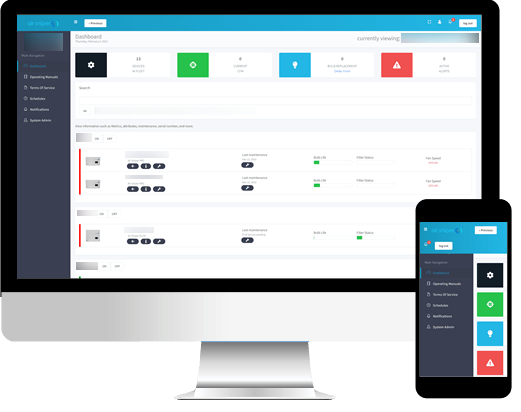 Monitor your Air Sniper Right from Your Phone or Desktop
Contact us today to learn about the Air Sniper Difference.